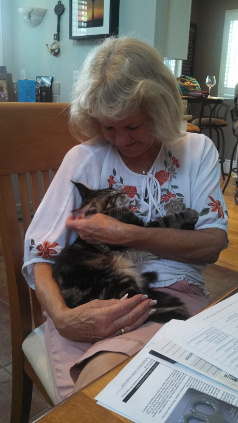 The kitten pictured at left has just arrived at its forever home. Windwalker kittens, neutered, spayed, vaccinated and microchipped, are placed in homes to heal broken hearts of those whose older cat passed on, and to bring love and laughter every day to their new families.
(See .)
We raise kittens with three guiding principles: socialization, early handling and environmental enrichment. Our kittens are loved and handled from the day they are born.
The kitten at right has just had breakfast and is being weighed.
Every kitten is weighed twice a day the first weeks so we know the mother is producing enough milk and every kitten is gaining weight.
When their eyes open we trim nails, as competition at the milk bar can be fierce!
Kittens stay with their mom and littermates in our bedroom until they're vaccinated. Then they run around our house, which is a playground of toys and climbing places. At 16 weeks, when they're self-confident and ready, they go to their new home.
Hopefully, your kitten will be with you for 15 to 20 years, so these weeks with their first family are worth it!