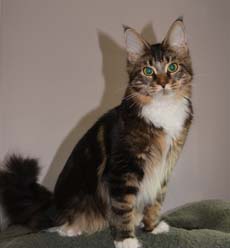 "Eve" was born on Halloween, 2015. She is one year old in the picture at left.
She has a rich, brown classic tabby with white coat, her mother, Momentum's, lovely expression and her father, Summit's, heavy boning and bulk. Her ears are set nicely on her head with thick lynx tips and she has a strong chin, a lovely smoothly-curved profile and a boxy muzzle.
Eve is a very calm, happy cat. She is a Regional Winner and a TICA Champion. She was the 17th BEST KITTEN of all kittens shown in the Mid-Pacific Region in 2016.