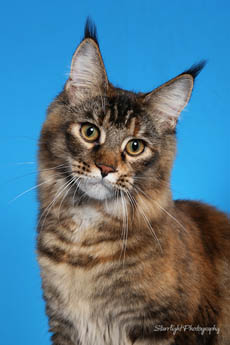 Eight months old in the picture at left, Echo looks just like her mom, Coonamor CandyO of Windwalker, thus her name, Echo. Her father is Cloistercoons Chinook of Windwalker.
She has a rich, tortoiseshell tabby coat, a lovely expression, heavy boning and a bulky body. Her ears are set nicely on her head with thick lynx tips. She has a strong chin, a lovely smoothly-curved profile and a boxy muzzle.
Echo is a TICA Supreme Grand Champion and International Winner: Best Brown Ticked Torbie Maine Coon in 2017-2018,
In the Mid-Pacific region Echo was the 9th Best Kitten,
2nd Best Maine Coon Kitten,
BEST Maine Coon Cat and 5th Best Cat.