Birthdate

April 10, 2016
Color

Tortoiseshell

Weight
10 pounds

HCM DNA report

Both parents are Negative for the HCM mutation
Cardiac ultrasound
All measurements within normal limits - no evidence of congenital heart disease.
Nov 2017.

FIV/FELV

Negative 2019
Father
SGC Cloistercoon Chinook of Windwalker
Mother
TGC Coonamor CandyO of Windwalker
Chromium's Health Info

Born

May 8, 2017
Color

Silver classic tabby with white

Ultrasound
All measurements within normal limits - no evidence of congenital heart disease.
Nov 2018.
Hips
Good

HCM DNA report

Negative

Father

SGC Cloistercoon Chinook of Windwalker

Mother
TGC Coonamor CandyO of Windwalker
Echo's Health Info

Born

May 8, 2017
Color

Ticked tortoiseshell tabby

Ultrasound
All measurements within normal limits, May 2019. March 2018

HCM DNA report

Negative
Hips
Good

Father

SGC Cloistercoon Chinook of Windwalker

Mother
TGC Coonamor CandyO of Windwalker
Birthdate

October 19, 2017
Color

Blue/cream classic tortoiseshell tabby with white

HCM DNA report

Both parents are Negative for the HCM mutation
Cardiac ultrasound
Measurements within normal limits. May 2019.
March 2018,
Hips
Good

FIV/FELV

Negative 2019
Father
Windwalker Creme de la Creme
Mother
QGC Le Beau Minu Serenade of Windwalker
Maisie's Health Info

Born

11/23/2017
Color

Solid black

Ultrasound
All measurements within normal limits - no evidence of congenital heart disease.
Nov 2018.

HCM DNA report

Negative

Father

SGC Cloistercoon Chinook of Windwalker

Mother
Windwalker All Hallow's Eve
Windwalker Marquesa
Marquesa is a Supreme Grand Champion. She has an exquisite head, with ears set high, long, thick lynx tips, nicely shaped eyes, a strong boxy muzzle and lovely expression.
Marquesa is three. She's had two litters and is a devoted mother. She is definitely a prima donna and eats like a bird to maintain her slender figure. She expects her plate in her place, then expects the food to have a liberal "frosting" of Wysong's F-Biotic food supplement, which she likes so much she is frequently caught on the kitchen counter, licking the powder from the shaker top of the container.
In the 2016-17 show year, Marquesa was the Best Kitten, 10th Best Cat and 5th Best Longhair Cat in the Mid-Pacific Region.
Windwalker Chromium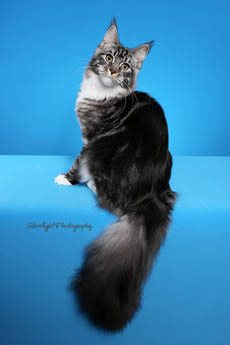 Chromium is a Supreme Grand Champion. She has heavy boning, a strong, boxy muzzle, expressive eyes and look at the beautiful earset of those large ears. A very outgoing, happy girl, she is always finding tasks to keep herself occupied. When cat-lover guests come to the house, they want to take "Chromie" home with them.
Chromium is eight months old in the picture at left.
In the 2017-2018 show year, she was
5th Best Kitten in the Mid-Pacific Region, and
BEST Maine Coon Kitten of the year and
25th Best Cat and 15th Best Longhair Cat.
In 2018-19, Chromi was 21st Best Cat
Windwalker Echo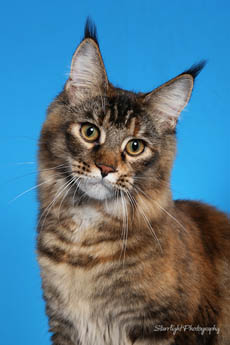 Echo is a Supreme Grand Champion. Eight months old in the picture at left, Echo looks just like her mom, Coonamor CandyO of Windwalker, thus her name, Echo. She is a lovely, gentle girl and her first litter of kittens. born July 2018, are as sweet as she is.

Echo has a rich, tortoiseshell tabby coat, a lovely expression, heavy boning and a bulky body. Her ears are set nicely on her head with thick lynx tips. She has a strong chin, a lovely smoothly-curved profile and a boxy muzzle.

Echo is a TICA International Winner: Best Brown Ticked Torbie Maine Coon in 2017-2018,

In 2018 in the Mid-Pacific region Echo was the 9th Best Kitten,
2nd Best Maine Coon Kitten,
BEST Maine Coon Cat and 5th Best Cat.
Windwalker Avec le Temp (Leila)
Windwalker Avec le Temp (Leila) is a Quadruple Grand Champion.
One year old in the picture at left, Leila is affectionate, amiable and very intelligent. If we're thinking of giving the cats a treat, we have to spell the word F-I-S-H, because she will wake from a sound sleep and come running, begging for her favorite treat, VitaESSENTIALS Freeze-dried Minnows, if she hears us say "fish."
Then, if the others don't eat their minnow immediately, Leila swipes it away from under their nose. Given the chance, she will eat every minnow given to every cat.
Leila is a Regional Winner. In the Mid-Pacific Region in 2018, she was the 10th Best Kitten and the Third Best Maine Coon Kitten shown.
In the 2018-19 show year, Leila was the 16th Best Cat.
Windwalker Mayflower (Maisie)
Mayflower was born on Thanksgiving Day, 2017, thus her name. We call her Maisie. The amazing Miss Maisie believes she is part cat and part flying squirrel and makes us laugh every day as she flies around the house, growling to herself. She makes sure to present herself on the the bed when we're preparing for sleep, where she sleeps above my pillow every night on her special place - her flannel pillowcase.
Maisie is a Triple Grand Champion. She has exquisite "type," a beautiful head, lovely earset, boxy muzzle with a strong chin and perfect eye shape and size.
As a bonus, we are thrilled that she is solid black, because when Caviar departed in 2016, we were left without the grace and elegance of a solid black Maine Coon cat here.
In the 2017-2018 show year, she was 14th Best Long-haired Cat shown in the Mid-Pacific Region