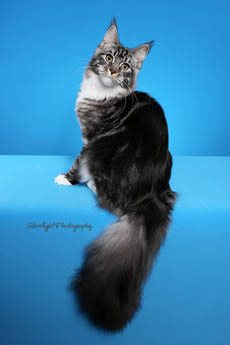 Chromium is a Supreme Grand Champion. She has heavy boning, a strong, boxy muzzle, expressive eyes and look at the beautiful earset of those large ears. A very outgoing, happy girl, she is always finding tasks to keep herself occupied. When cat-lover guests come to the house, they want to take "Chromie" home with them.
Chromium is eight months old in the picture at left.
In the 2017-2018 show year, she was
5th Best Kitten in the Mid-Pacific Region, and
BEST Maine Coon Kitten of the year and
25th Best Cat and 15th Best Longhair Cat.
In 2018-19, Chromi was 21st Best Cat.