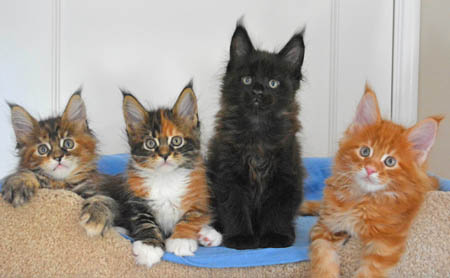 Dolce and Gabbana, Nero and Caesar, six weeks old. These kittens have been placed in their new homes.
At right, Nero, Dolce and Gabbana and Caesar, 13 weeks old.
Caesar is a show quality kitten. Fabulous ears, large and set perfectly on his head. His eyes are the correct size and shape. His profile is smooth and gently curved. His forehead is slightly rounded. He has a beautiful, three-part muzzle, long and square. (Sometimes a longer muzzle becomes pointed), and his chin is strong and deep. From the side his muzzle is two-thirds top, one-third lower.
His beautiful head is from his mother, Marquesa, and his dense, heavy body and strong boning from his father, Triller.